Club History
Details

Last Updated: Wednesday, 17 February 2021 17:07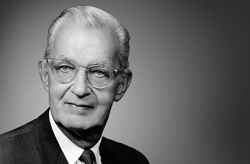 Potomac's history is intertwined with that of the Porsche Club of America (PCA). Potomac was the first Region chartered in PCA and most of the original founding members of Potomac were charter members of PCA. The history of Potomac goes back to the founding days of PCA and really starts in 1954 with Bill Sholar.
Bill was a commercial artist in the Washington, D.C. area in the early 1950s. He also admired well designed cars. He first Porsche was 1953 356 Coupe. After Bill purchased the 356, he met other Porsche enthusiasts. In late 1954, Bill decided to try to bring together fellow enthusiasts who had become passionate about this new performance car manufactured by Porsche AG in Germany. Bill lived in Alexandria, VA and wanted Porsche owners from the Washington, DC metropolitan area to meet to share their passion for driving these new cars, help each other with the maintenance of these rather unique vehicles and to socialize with one another.
Bill began to reach out to everyone he knew that owned a Porsche and on February 8, 1955 he invited as many as he could to his apartment at 1542 Mount Eagle Road, in what was then known as Park Fairfax, VA. Bill's invitation read:
"Several PORSCHE owners in this area have thought that it might be helpful (and fun) to get together to exchange information on PORSCHE characteristics, operation, service, parts etc. We are meeting for the first time
Tuesday Night…February 8…8.15 PM…my place (see map)
If you are interested, please come and bring any other PORSHE[sic] owner's you may know."
We don't really know who or how many attended, but we do know that from that meeting and subsequent meetings Bill began to talk about organizing a club for Porsche owners. We know that the little 356 that everyone had fallen in love with was rife with mechanical problems, and if nothing else, Porsche owners need help to figure these out.
In an interview for Potomac, Bob Elliot, one of the charter members of the Club talked about why he bought a Porsche and some of the problems associated with owning one. Bob bought his first Porsche, a 1953 356. In early 1955, he owned a 1948 Studebaker convertible. He wanted a smaller car that would be more suitable for Georgetown. He considered many of the small imported cars available such as the Hillman Minx, Morris and Triumph but they didn't interest him. So he settled on a Porsche.
Bob considered several Porsches most of which were bought in Germany by military or civilians and brought back to the US. There were several available for around $2,100 for the standard 356. So Bob bought one of these around the first of March 1955. Bob was probably typical of the first generation of Porsche owners. He had no mechanical background or experience with maintaining a car but would soon learn the difference between a "normal" American car and at "temperamental" European sports car.
His challenges were probably typical to other Porsche owners, and one of the reasons Bill Sholar thought a network of Porsche owners to share information would be beneficial to everyone. But his challenges started about a week after he bought the car. They ranged from a rattling bolt in a shock absorber to problems with body work to finding a parking spot where the car wouldn't get dinged. Bob did as much of the mechanical work as he could. Although he had never done anything like this before, he followed instructions in a tech manual. He commented that the 356 was a simple engine to work, by modern standards of course.
Bob maintained contacted with fellow Porsche owners and was able to identify some potential shops that could work on Porsches. He also found out that the Jack Pry Company was the major foreign car dealer and service facility in the DC Metro area. While Jack Pry itself was not a direct importer of Porsche cars, it could supply Porsches and parts through their relationship with Hoffman Motors in New York City. And he would get to know Hoffman Motors much better in the future.
One advantage of having Jack Pry nearby was Bob got to meet other Porsche enthusiast. The first one he met was Ray Wilcox. He and Ray often went to Jack Pry for parts and to ask advice from Tex Hopkins, a Pry employee who raced a 356 Super and was also an informal clearing house for Porsche information. Ray was an amateur mechanic who knew quite a bit about Porsches. Ray introduced Bob to Ed Brenahan who owned a garage and was willing to work on Porsches. Ed was willing to lend tools and equipment to Ray Wilcox. This was a great connection for Bob and he made lots of trips from Georgetown to the Wilcox's home in Forest Heights. MD.
Bob and Ray eventually heard about Bill Sholar's efforts to bring Porsche enthusiasts together and on July 27, 1955 they attended an organizational meeting of what Sholar was calling the formation of a Porsche Club. The meeting was at Bill Sholar's apartment and Bob didn't recall who else attended except him and Ray. Bob said the meeting resulted in an agreement to keep on moving towards forming a club.
And the Porsche Club finally became a reality. On September 13, 1955, Bob attended a meeting of the Porsche Club at Blackie's Grill (a.k.a Blackie's House of Beef) located a 22nd and M Streets, N.W in Washington, D.C.1 Bob remembers that Bill Sholar and the other organizers had done whatever was necessary to start admitting members to the club, set dues and designed a club emblem.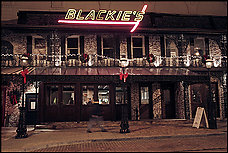 The minutes from that first meeting corroborate Bob's recollections. Thirteen prospective members showed up, but one had to reluctantly be asked to leave when she revealed that she owned a Volkswagen, which didn't qualify under the Club Bylaws. That rule remains in effect today. Those in attendance were Bill Sholar, Karl Grimm, Peter Pearman, Ken Twigg, Frank Beckett, Gamble Mann, Fred Schulenburg, Bob Flick, Bob Elliott, Ray Pitts, Harvey Brown, and Don Carr.
Membership applications were passed out and a certificate was read from Porsche AG stating the Porsche Club of America was officially recognized by the factory. The officers were President – Bill Sholar; Vice President – Karl Grimm; Treasurer – Peter Pearman and Secretary – Ken Twigg. Other charter members identified from the minutes were Gamble Mann, Bob Flick, Frank Beckett, Fred Schulenburg and of course, Bob Elliott. They discussed activities and it was pretty clear that rally's were at the top of the list.
A second meeting was held on October 24, 1955. President Bill Sholar gave a progress report on the formation of the club. They decided to draft a set of rules for operation of the club and set dues at $5.00. Yes, that is $5.00.
Throughout the rest of 1955 the Club prospered. Word about this special club for Porsche owners spread rapidly. By January 31, 1956, 189 more Porsche drivers joined the Club. All were designated as "charter members" of the Porsche Club of America. Early in 1956, several members who eventually became part of the Potomac Region arranged the first gathering of all PCA members. This first gathering was held at the Washingtonian Motel in Gaithersburg, Maryland from August 29 through September 1, 1956. Sixty four PCA members attended. The activities included a rally, a gymkhana and technical tips from Porsche factory service representatives who where there. And the gathering was named Parade. The name was actually derived from the parade of Porsches that wound through the local streets of Gaithersburg.
As more and more members joined outside the Washington, D.C. area, it became apparent to the Club officers that they would need some type of organizational format to divide the Club regionally. So Regions were formed in other communities. In February 1957, some members of the original Washington, D.C. group that formed PCA, petitioned President Bill Sholar to become the first Region incorporated in PCA. On February 1, 1957, Harvey Brown, Tom Lusk, Don Kinney, Gamble Mann, John Snyder, John Grady, R.V. Keys, Roy Cross, Art Bartholomee, Ken Twigg and Jim Healy sent the petition to President Bill Sholar. Brown, Mann and Twigg were among the 12 members at the original meeting in September 1955. The petition was granted and because all were charter members of PCA, the charter date of Potomac became the same as the charter date of PCA, September 1, 1955. The Potomac Region remained the hub of activities for several years. By the time of the second Parade in September 1957, there were 550 members in 21 Regions, mostly in the eastern U.S. Besides including a Concours d' Elegance for the first time, this 1957 Parade saw the first national officers elected from outside Potomac, the founding Region.
Today, Potomac, The Founder's Region, is strong and vibrant and proudly carries on the tradition of excellence started by Bill Sholar.
And finally, what happened to Bob Elliot. Well in 1958, Bob married and that meant moving from Georgetown to Virginia. His wife convinced him the Porsche wasn't really suitable for a newly married couple and Bob sold the car in the fall of 1958. After some negotiation he agreed on a sale price of $1700, the same figure he paid for the car nearly two years before.
Special thanks to Ellen Beck, PCA National Historian, Vu Nguyen, PCA Executive Director, George Whitmore, Potomac Historian and Robert Elliott, one of the original charter members of PCA, for information that was used to prepare this article.
Here are some documents from our archives:
Original Potomac docs from National Archives
Pictures used in 55th Anniversary Article
1A common mistake propagated in many PCA club histories cites that Blackies Grill was located in Alexandria, Va. It was in fact located in downtown Washington, D.C. and demolished in 2006 following the death of it's owner Ulysses G. "Blackie" Auger Sr. which occured in 2004.