Celebrating Founder's Region Past Presidents
Details

Last Updated: Monday, 01 February 2021 16:10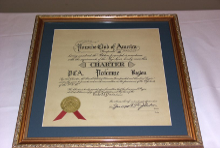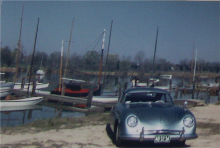 .....
Here are the leaders who guided the club from its inception through to today. It was their stewardship that grew the region from a handfull of enthusiasts in 1954 to a vibrant organization with an annual budget of more that $500,000 and over 3000 members and associate members today. The management and operation of the club is still entirely voluntary. The growth and the value of the club to our members is in the hands of the members themselves. We owe a great debt to those who volunteer their time and talent to make the club what it is today. These past Presidents were the leaders that inspired the many hundreds of dedicated volunteers that made it possible.
POTOMAC REGION PAST PRESIDENTS
by George Whitmore, Potomac Region Historian
On this Presidents' Day 2006, PCA Potomac Region would like to recognize all its Past Presidents. Your region presidents have guided Potomac Region since its inception in 1954 through the succeeding fifty-one years. In 1992 then President Tom Walker initiated a Past Presidents pin, which was first, presented at the 1993 Potomac Region picnic at Senica Park. Several past Presidents who attended, including 1968 President Joe Berger received the first pins.
Since that time at some prominent Potomac function, to permit public recognition, Potomac's past Presidents have been presented a PCA Potomac Region Past Presidents pin to recognize their service to the region. Other Potomac past Presidents who could be contacted have been given their pins. Pictured below is Bill Sholar, the first Founders' Region president. (photo copyright Panaroma Managzine).
Bill Sholar
1954 - 55

Bill Sholar

1956

Bill Sholar

1957

Harvey Brown

1958

Hank Mann/Jim Richimer
The rules have changed since 1958, but then president Hank Mann sold his Porsche and bought an "Eye-tallian" car. As a result, he
had to give up the Presidency, and the Vice President, Jim Richimer became President.

1959

Lynn Sholar

1960

Kick Keys

1961

George Duvall

1962

Carroll Le Fon

1963

J. R. Newbrough

1964

Jack Frazer

1965

Edward Mernone

1966

Dave Primm

1967

Edward Ver Hoef

1968

Joseph Berger

1969

Dan Rowzie

1970

Lee Fowler

1971

Lee Sammons

1972

Pete Schroeder

1973

Jerry Huffman

1974

Al Collins

1975

Lanny Hughey

1976

Phoebe Harper

1977

Ed Marsden

1978

Bob Braunohler

1979

Alan Friedman

1980

Dick Berner

1981

Andras Nagy

1982

Tim Berardelli

1983

Bill Tyrrell

1984

Shawn Woodhead

1985

Sandy Langus

1986

Paul Weston

1987

Jim Loftus

1988

Dan McChesney

1989

Rich Wojiochiecz

1990

Chuck Fountain

1991

Bob Williams

1992

Tom Walker

1993

Fred Phelps

1994

Diana Love

1995

Mick Malucci

1996

Dan Dazzo

1997

Scott Hunt

1998

Fred Smart

1999

Paul Amico

2000

Doug Thompson

2001

Caren Gladle

2002

Betty Church

2003

Tom Trew

2004

Pete Kauffman

2005

Roberto Alvarez

2006-07

Art Parsons

2008

Tony Kelly

2009-10

Tuffy von Briesen

2011-12

Dick Seltzer

2013-14

John Eberhardt

2015-16

Howard Hill

2017-18

David Dean

2019-20

Mia Walsh