Learn About Our Activities
Details

Last Updated: Sunday, 15 January 2023 12:51
Written by Ken Harwood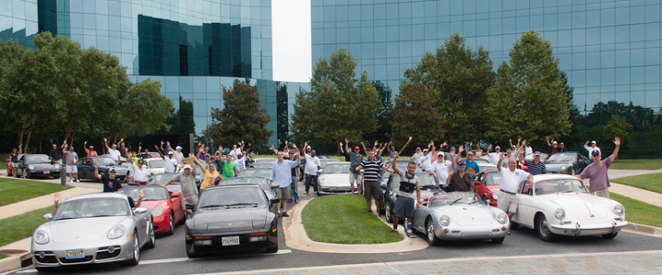 Autocross. An autocross is a closed-course driving event where the objective is to complete the course in a safe manner in the shortest amount of time possible (fastest overall speed). Some autocrosses are held using a large open area with the course marked by pylons. Some autocrosses are held on a closed-circuit road course.
Club Race. PCA Club Racing is an organized race series for Porsche owners. The rules are similar to vintage racing.
Concours. The Concours Group puts on a variety of car shows each year where Potomac members are invited to display their Porsche.
Drive and Dine. Drive and Dine events consist of a meeting place and an informal drive through the country followed by lunch or dinner. As part of our Drive and Dine activities series, we have monthly breakfasts/brunches gathering in different locations through the the DC metro area. The monthly brunches provide the easiest way to start participating in PCA Potomac by meeting and interacting with our members. The breakfast/brunch gathering are generally on the the first Saturday of the month in Manassas, VA, and the third Saturday of the month in Glen Echo, MD.
Driver Education. PCA Potomac offers Driver Education (DE) programs that allow you to learn how to drive your car in a variety of circumstances. Emphasis is placed on improving your safety skills as a driver as well as on high performance driving. We also have High Performance Driving Clinics (HPDCs), which are instructional sessions tailored to the needs of members with no previous driving experience beyond the "normal" daily commute.
Rally. A rally can be competitive or for fun. The objective of a rally is to follow a course, usually on public roads, to the precise detail specified in the rules. Competitive rallies dictate a certain schedule for the checkpoints along the way. Points are deducted by arriving at the checkpoint either early or late. Fun rallies may include a gimmick (poker rally, regional interest). Part of the challenge with a fun rally is to discover the intended route, which may require other skills such as solving a puzzle or looking for obscure reference points.
Tech Inspection. Driving in a Driver Education (DE) event? Have a new or new-to-you Porsche? Bring it along and have a knowledgeable Tech Inspector put your car on a lift, look it over and answer any (well, almost any) questions you might have about the care and maintenance of your car. This is also a great opportunity to meet fellow club members.