Details

Last Updated: Friday, 29 April 2016 09:33
Written by Ron Davis, Concours Chair & JohnTruban – Concours Co-Chair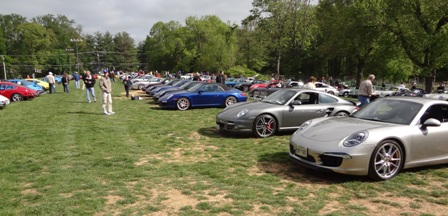 Due to rain in Sunday's forecast the Deutsche Marque has been postponed to Sunday 15 May. On Sunday, May 15th the region's sharpest Porsches, Mercedes and Bimmers will be found at Nottaway Park in Vienna, Virginia. So come April take your "beauty" out of winter hibernation, dust off the cob webs and start detailing. If you need detailing tips, go to the "Odds & Ends" detailing clinic in Herndon on Sunday, April 3rd. Sign up via John McWilliams at john.mcwilliams@gmail.com.
Details

Last Updated: Tuesday, 16 February 2016 10:53
Written by Ron Davis
Event
Date
Location
Results
33rd Annual Deutsche Marque Concours d'elegance

Sunday,




May 1, 2016

Nottaway Park, Vienna, VA

Rally & "People Choice" car show Augustoberfest

Sunday,




Aug 28, 2016

Hagerstown, MD

"Gathering of the Faithful" featuring 356s. Cars are not judged, just lots of door prizes and fun.

Saturday,




Sept 3, 2016

VW Hqtrs,Bldg

2200 Ferdinand Porsche Drive, Herndon, Va 20171

PCA Potomac Club Picnic and "low key" car show.

Sunday,




Sept. 11, 2016

Fort Hunt Park in


Alexandria, VA
Details

Last Updated: Monday, 21 September 2015 13:48
Written by Ron Davis
Shine up your Porsche on Sunday, October 4th and help us celebrate PCA Potomac's 60th Anniversary by entering our low key "People's Choice" car show. In doing so, you will receive one (1) free Raffle Ticket. The show will be held at the beautiful Lansdowne Resort facility from 11:00 – 3:00. (When you arrive, greeters will direct you on where to park.)
There will be no "official" judging at this "TOP 10" show. Participants and spectators will cast ballots on their favorite cars and the "TOP 10" vote-getters will win a neat trophy. Moreover, there will be a detailer on location for those golfers, or anyone else, who need their car spruced up for the event – have them wash your Porsche and they will park it in the dedicated area of the parking lot. There is NO SEPARATE REGISTRATION FEE if you are participating in any of the other 60th Anniversary events including the buffet dinner. If you come ONLY for the car show, the fee is $10.00 cash payable at the registration table.
For more information contact Concours Chair, Ron Davis at concours@pcapotomac.org.
Details

Last Updated: Sunday, 27 September 2015 12:07
Written by Ron Davis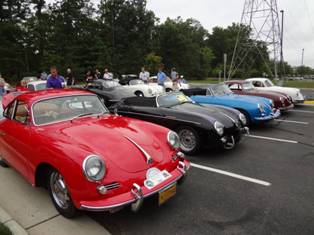 The "Gathering of the Faithful" on Ferdinand Porsche Drive was spectacular with 50 Porsches dispalyed at VW Headquarters in Herndon. The turnout spanned models from 1953 to 2015 including 20 356s and 30 other beautiful models.
Details

Last Updated: Monday, 11 May 2015 20:22
Written by Ken Harwood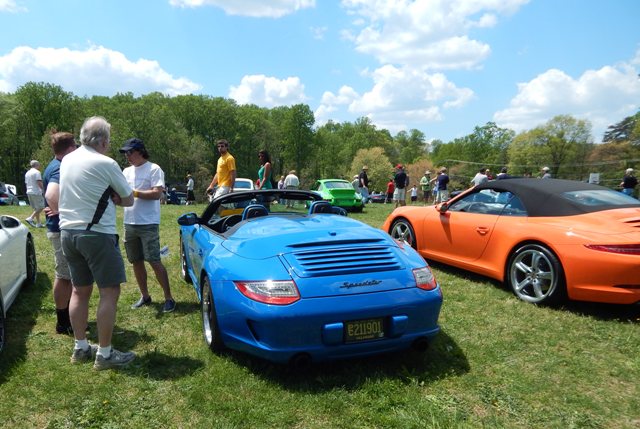 The 2015 Deutsche Marque Winners are as follows:
Best of Marque
John Oglvie '55 356 Pre-A Coupe
356 (Concours)
1st - Harvey Cherner, '62 356 Cabriolet
2nd – Dan Rogers '64 356 SC Coupe
3rd (tie) - Jim Hobbins, '63 356B Coupe
3rd (tie) - Tony Connor, '61 356B Coupe

Early 911s,912s,914s 1965-83 (Concours)
1st – Bob Roche, '70 "914"
2nd – Emerson Sanders '72 "914"
3rd - Jeff Heenfy, '74 911 Carrera Coupe

Mid-911s 1984 - 98 (Concours)
1st – Ted Wills, '97 911 Targa
2nd – Bob Gaddy, '98 911C2S
3rd -- None

Late 911s 1999 – 2012 (Concours)
1st – John Klish, '2014 911 Carrera S Cabrio
2nd – Stephen Mackellar , '2014 911 (50th Edition)
3rd tie) -- Don Zelm, 2012 911 GTS
3rd -(tie) – Rich Waddell, 2008 911 Carrera S

Boxster/Cayman (Concours)
1st – Bob Farmer, '04 Boxster
2nd – Gary Brindle, "2010 Boxster
3rd - James Skelly, '08 Cayman

924, 928, 944, 968 (Concours)
1ST – Louis Vernon, '88 "944"
2nd – Darryl Nichols, '92 "968 Cabrio"
3rd – None

Outlaw Class
1st – David Bergman, '73 911E
2nd -- Russell Kessler, '73 911 RS
3rd – Alan Friedman, '73 911 RSR

356s (People's Choice)
1st -- John Oglvie '55 356 Pre-A Coupe
2nd – Bill Tate, '58 356 "Speedster"
3rd -- Syd Butler, '61 356 Roadster

Coupes All Years (People's Choice)
1st – Brian Peters, '79 911 Turbo
2nd – Bob Hofmekler, '95 911 Coupe
3rd – David Dukehart , 2001 911 Turbo

Open Cars All Years (People's Choice)
1st – Chip Tsantes, '2011 911 Speedster
2nd - Gary Lawson, '90 911 Cabrio
3rd - Richard Beutel, '80 "928"