Articles
Drive & Dine
Details

Last Updated: Wednesday, 01 April 2015 14:18
Written by Claude Imbt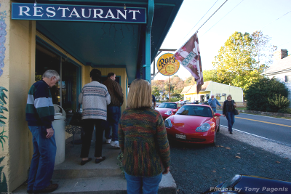 Drive and Dine is an opportunity for PCA Potomac members to get to know each other better and enjoy their cars in a social, non-competitive atmosphere. A Drive and Dine Event consists of a meeting place, an informal drive through the country, and lunch or dinner. The meeting place is usually some place convenient, the pace can vary from leisurely to brisk, and the meals can range from basic to lavish, based on the event. We also try to include some point of interest (national park, historic location, or fun activity) and we always, always take the scenic route!
These events are open to anyone who wishes to attend them, with as many passengers as can be legally and safely held by the vehicle. There is no tech requirement or vehicle restrictions for most events (Porsches Preferred), but we will be driving on scenic, often twisty, country roads so please make sure that your vehicle choice is appropriate. We have several events planned for the year, most of which take place on a weekend, check the schedule on the sidebar.
Commitment - Time & Money
What kind of commitment is required for a Drive and Dine event? Very little. Most events take place on a Saturday or Sunday and will consist of a designated morning or afternoon meeting point, followed by a two to five hours of driving, dining, and social activity. The itinerary is designed so that drivers with time constraints can break off during the day to reduce their time commitment. The registration fee for events varies from free to $10 to $100 and covers the cost of organization, club insurance, printing directions and materials for participants, and any event souvenirs.
Drive and Dine Format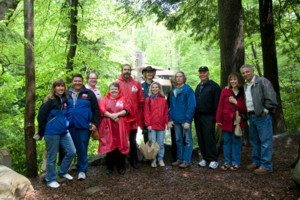 Meeting Point - We will meet at a convenient rally point somewhere in the DC Metro Area. We will meet between 9-10AM for Morning/Lunch Drives and Between 1-2PM for Afternoon/Dinner Drives. The agenda for the day will be handed out and each car will receive a route map as well as names and phones numbers for event leaders, attractions and restaurants we will be visiting during theday.
Drive - 2-3 hours of driving on scenic roads in caravan in one or multiple groups depending on the number of cars. During the drive, we will stop briefly for a rest stop and gas at the Rendezvous Point. The Drive will focus on scenic rural roads with an emphasis on fun and safety. Passing is discouraged.
Rendezvous Point - This is an easily found point known in advance, where cars who may have become lost or those who did not arrive at the Meeting Point can catch up with the group.
Dining - After the drive, we will stop for lunch or dinner. Restaurants will have ample parking and a variety of items on the menu. We will provide an estimate of dining cost for each individual event in advance.
Attraction - We will try to arrange for the dining to coincide with a local point of interest, such as a museum or historical site.
Second Drive - If it is a morning event, after lunch and our site visit, those participants that wish to keep driving can participate in a second 2-3 hour drive with different roads from those of the First Drive.
Dispersal Point - The Second Drive will return us to a point near the Washington, D.C. metro area from where participants can head home.
Breakfast/Brunch Gatherings
First Saturday of the month in Manassas, Virginia
We will meet at City Grille in Manassas at 11:00 am - 1:00 pm. The City Grille is perfectly located just off of I-66 providing us rapid access to some of northern Virginia's best scenic roads. The City Grille has indoor and outdoor seating, a comprehensive menu of delicious breakfast and lunch meals, and ample parking. Pile everyone into the Family Truckster (or even a Porsche!) and come out for a great breakfast and make some new friends. City Grille is located at 10701 Balls Ford Road, Manassas, VA 20109 and their website address is http://www.citygrillemanassas.com/.
Second Saturday of the month in Merrifield, Virginia
The second Saturday breakfast is from from 8:00 am - 10:00 am and will be held at Merrifield Silver Diner, 8150 Porter Rd. Falls Church, VA 22042 located off Gallows Road between Lee Highway and Rt. 50 in Merrifield, Va. There is plenty of parking around back and a large diverse menu. Pile everyone into the Family Truckster (or even a Porsche!) and come out for a great breakfast and meet some old friends, and make some new friends. This eariler start should make it easy to enjoy your Saturday with some nice country drives or more family time. Their website address is http://www.silverdiner.com/restaurants/merrifield.
Third Saturday of the month in Glen Echo, Maryland

We will meet at the Irish Inn in Glen Echo, MD at 11:00 am - 1:00 pm on Saturday. We have a private room upstairs, so just head upstairs. The Irish Inn is at 6119 Tulane Ave in Glen Echo, just off of MacArthur Boulevard, and can be easily accessed from the Clara Barton Parkway by taking the Washington/Glen Echo exit - the Irish Inn will be at the top of the ramp. Take the Clara Barton Pkwy exit from the Beltway and taking this South to the Glen Echo exit. From the Glen Echo exit, make a left at the stop sign onto MacArthur Blvd. northbound, and the Irish Inn is immediately on your left. There is parking in front and behind of the Inn, and there is additional parking up the road in front of Glen Echo Park. The Irish Inn website is http://www.irishinnglenecho.com/ and their phone number is (301) 229-6600.
Online Registration
Please register for each Drive & Dine with our online registration system (no registration is required for the Monthly Breakfast/Brunches, just show up). Click Activities, Drive and Dine, and Drive and Dine Schedule and you will see the events that planned, a link for details about it and to register for any event, please visit our MotorSportReg.com online registration system here: http://www.pcapotomac.motorsportreg.com.
Once you have registered, we will provide you additional details for each event. Payment via credit cards is preferred. If you wish to make other arrangements please contact the Drive and Dine Chair. We will require payment in advance for any event that includes a cost.
If you would like to help with the Drive and Dine committee by volunteering your time, or if you have a suggestion for an event you would like to see happen, please email us at: driveanddine@pcapotomac.org