It Was A Spectacluar DEUTSCHE MARQUE
Details

Last Updated: Sunday, 01 June 2014 14:24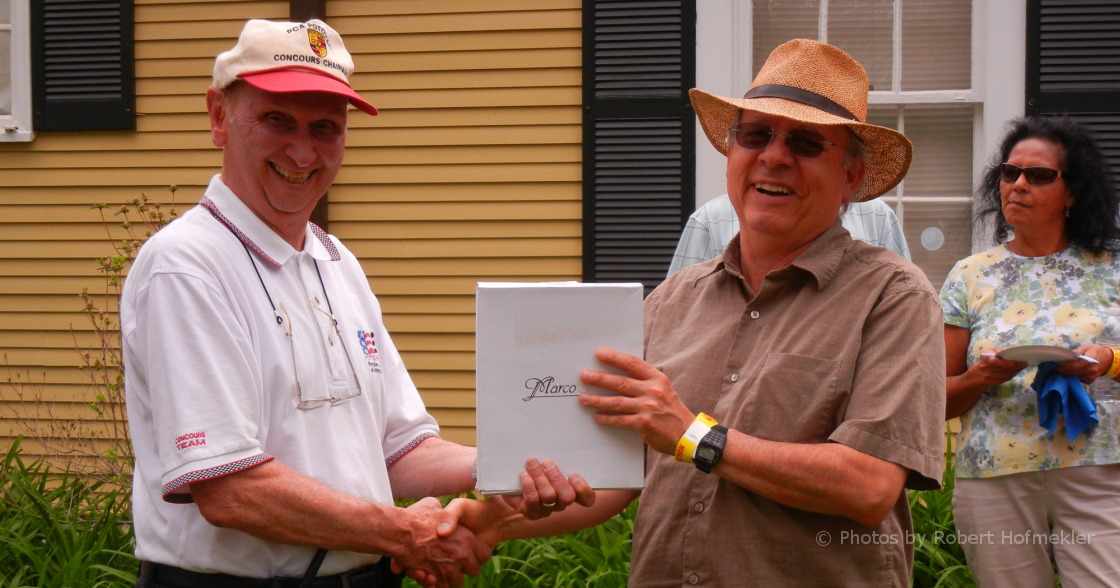 "Spectacular" was the word most often heard at Nottoway Park in Vienna as people commented on the 2014 Deutsche Marque. A field full of Germany's finest automobiles was indeed a beautiful sight. Among those 200 gleaming cars were 70 Porsches, including 15 356s, a couple of 914s, a 912, and 50 + 911s of all years along with many Boxsters and Caymans. The weather was nearly perfect and he field was dry despite days of heavy rain earlier in the week. "Best of Marque" and "1st place in 356 Judged" went to Dan Roger's beautiful dark green "64 356 Coupe with an absolutely sparkling engine and superb car overall. As a fellow 356er, it beats me how he got it so spotless. Chris Wilson's '67 "Soft Window" Coupe received an award for most unique (seldom seen) car, which was also beautifully presented.
"People's Choice" is always interesting because as the saying goes " beauty is in the eye of the beholder" Proof of this was clear in the "People's Choice " "Open Car" class when 1st place went to Gary Brindle's always immaculate 2010 Boxster, but 3rd place went to Megan Murphy's '76 914 which looked like it had last been washed in 1976!! I think Megan needs to visit "Intersport" where her dad might be able to give her some help.
The overall event went off very smoothly thanks to great support from the volunteer judges headed by Matt de Maria and Joe Howell. Great organization by the registration team of Lonnie Kessler, David Gross and Diana Davis kept things running smoothly at the sign-up table.
The wine & cheese reception was a huge success thanks to the efforts of Jim McLeod and Rick & Dayna Flanagan for handling purchase and delivery of drinks and ice and "bartender" Richard Hudson . A special thanks to John Hopkins of Fairfax County Parks whose hard work and cooperation during the entire day made our show such a success.
Our Club truly appreciates the support of sponsors "Porsche of Tysons", "Mercedes-Benz of Tysons", "BMW of Fairfax", "Odds & Ends Detailing", "Dent Masters" , "Harrell's Miniatures", "Cocomatts.com", "Dent Masters" and "Radial Tire Co." .
The 2014 Deutsche Marque Winners are as follows:
Best of Marque
Dan Rogers '64 356 Coupe
Most Unique
Chris Wilson, '67 "Soft Window" Coupe
356 (Concours)
1st – Dan Rogers '64 356 Coupet
2nd – Harvey Cherner, '62 Cabriolet
3rd – Jim Hobbins, '63 356B Coupe
Early 911s,912s,914s 1965-83 (Concours)
1st – Daniel Blair, '66 911
2nd – Kelly Manley '73 "914"
3rd – Andy Jaunzemis, '71 911S Coupe
Mid-911s 1984 - 98 (Concours)
1st – Steve Mackeller, '97 911S
2nd – Erik Sulcs , '96 911C2
3rd – Brandon Jones, '90 911 Carrera 2 Cab
Late 911s 1999 – 2012 (Concours)
1st – Richard Waddell, '2008 911 Carrera S
2nd – Don Zelm, '2012 911 GTS
3rd – Charles Stringfellow, 2003 911 Turbo
Boxster/Cayman (Concours)
1st – Ron Gordon, '07 Cayman S
2nd – James Skelly, '08 Cayman
3rd – Scott Stevens , '08 Boxster S
924, 928, 944, 968 (Concours)
1st – Joe Howell, '84 "944"
2nd – Brian Schmergel, '93 "928 GTS"
3rd – Mike Copperthite, '88 "924S"
356s (People's Choice)
1st – Bill Tate, '58 356 "Speedster"
2nd – "Littlejohn" Schebish, '58 356 Speedster
3rd – Tim Berardelli ' 59 356 "Convertible D"
Coupes All Years (People's Choice)
1st – Russell Kessler, '72 911
2nd – Walt Ziffer, '08 911 GT2
3rd – Don Flynn, 2002 911-996 Coupe
Open Cars All Years (People's Choice)
1st – Gary Brindle, '10 Boxster
2nd – Roger Downey, '02 911
3rd – Megan Murphy, '76 "914"