Shenandoah's 18th Annual Richmond Porsche Meet (RPM)
Details

Last Updated: Sunday, 01 June 2014 21:16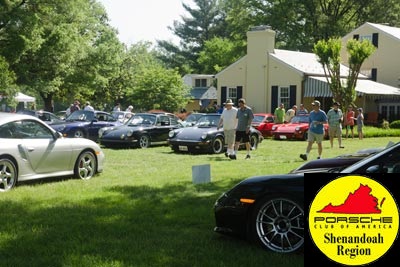 The Shenandoah Region would like to annouce the Shenandoah's 18th Annual Richmond Porsche Meet (RPM).
Join the Shenandoah Region for an enjoyable weekend May 30 – June 1 in historic Richmond, VA.
Friday-evening participants will gather to prep their cars at Dave's Auto Spa for the upcoming festivities, hang out and "kick the tires" at Euroclassics Porsche, and have dinner at nearby Stonehenge Golf & Country Club. On Saturday, we will host a tops-only concours and people's choice car show along the banks of the scenic James River that will conclude with a catered lunch at our famous "Café Carrera". Afterward, we will have a short gimmick rally/fun run that will take us to a scenic location for refreshments and end at an informative tech session on the new Porsche Macan at Euroclassics Porsche. We will have the opportunity to ask questions about our own cars, too and even check them out on a lift, if desired. Don't miss the awards dinner banquet with guest speaker, Cam Ingram of Road Scholars, known for his prize-winning restorations of rare and collectible Porsches and other cars. We will complete the weekend with an autocross on the 1/3-mile banked oval track at Southside Speedway, with an optional boxed lunch. Do everything or just the activities that appeal to you. All Porsche enthusiasts are welcome!
For additional details and a link to a printable brochure, visit the Shenandoah web site at http://shn.pca.org/index.php#RPM14article. Registration via MotorsportReg.com at http://msreg.com/RPM2014 closes on Tuesday, May 27.
Questions? Contact Alex Smith at (804) 323-1559 or asmith@collegiate-va.org or Sherry Westfall at (434) 295-3955 or 249-2877 (cell) or vscapes@cstone.net.