New Potomac Website Goes Live
Details

Last Updated: Wednesday, 30 April 2014 14:05
Written by Ken Harwood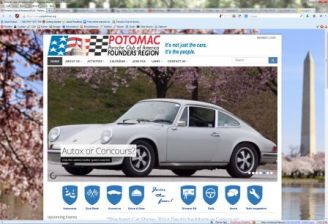 PCA Potomac is proud to announce the successful launch of its new website on April 1st, 2014. The old website was initially built in 2008 by Potomac PCA members Tony Kelly and Michael Johnson. It finished 4th and 3rd place in the National website competition in 2011 and 2012 respectively for Class V regions. Although it has served its purpose admirably, it was past time for major update in technology and a modern face lift.
The website is like many used by small business and organization websites in that it's constructed using mostly free and open source software to keep costs and maintenance down. The Potomac website uses the Joomla open source content management system which is a popular CMS used by Harvard University, Alfa Romeo, AV Capital, and many other PCA club websites.
Beginning in December 2013 current webmaster Ken Harwood formed an ad-hoc sub-committee of volunteer members to gather requirements and help drive the re-design effort. Basically the new committee met at the 1st & 3rd brunch meetings and drafted anyone else who would listen to the discussion. A number indivdudals contributed both critiques and new ideas. The resulting new design was reviewed and approved by the Executive Committed in March in time for the April 1st re-launch.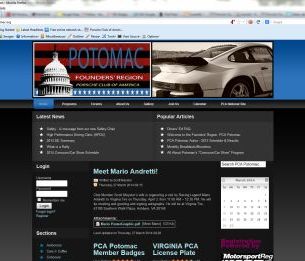 The PCA Potomac website has always performed two chief functions: 1) Disseminate information about activities and schedules to current members, and 2) Recruit new members. The goal was to continue to support these key functions while at the same time improving the overall user experience and offering additional features.
The new website has a number of new features including:
Newly imaged website logo based on the Potomac logo.
New Cherry Blossom and George Washington monument theme to clearly indicates the Region's unique location and identity.
Google Calendaring system of Program/Activity specific calendars you can add to your own Google calendar.
Responsive web design which works on a variety of devices and screen sizes.
Reorganized web content it easier to find information & events.
The website also features a number of member requested features such as a image slide show, easier to read black text on white, easier to navigate menus, quick click activity Porsche emblem badges, links to social media, and a Facebook page for PCA Potomac was created by John Walters. The very popular award winning der Vorgänger magazine section has drawn the most traffic since the relaunch. It features all current and previous issues going back to 2008 in a new easy to browse gallery of magazine covers. The Tech form for Drivers' Education events is prominently displayed on the home page and has proved the single most sought after download. Also returning is the photo gallery with a new twist. A page featuring links to member's third party hosted photo galleries was also added beginning with our resident prodigious amateur photographer and former Autocross chair Tony Pagonis. Tony's incredible photos are used extensively throughout the site. Thank you Tony!
We would like to thank the following members and associates for their contributions to the new website:
Steve Gifford, Linda Gifford, Carol Dezwarte, John Walters, Claude Imbr, John Vrankovich, Michael Kaunitz, Richard Mostow, Tuffy von Briesen, Michael Handelman, Ron Flax, Iris Rodriguez, Jon Eberhart and all the chairs who have contributed content. Please forgive me if I've missed anyone here but thank you to all the volunteers!
Credit for the new website logo and activity badges goes to Ron and Iris who are also joining the web team. And a very special thank you to Iris who worked on this project near full time in between her own projects to create the new "web content" pages from the older articles.
We are requesting your help to make this website better! If you would like to volunteer some photos for the slide show, member's gallery, or original content, please email webmaster@pcapotomac.org or see our new Content Submission guide under Contact Us.