PCA Potomac Logo Contest Winner
Details

Last Updated: Thursday, 23 January 2020 12:14
Written by Ron Flax
We have a winner!
Back on December 7th, during the most recent Open Board Meeting held in Rockville, MD, the new PCA Potomac Logo was unveiled. The logo was chosen after going through a series of votes beginning with the full membership, then a 5 person panel of judges, and finally by the club's Executive Committee.
The winning logo submission was produced by John Mills! pictured below with club president Mia Walsh doing the honors.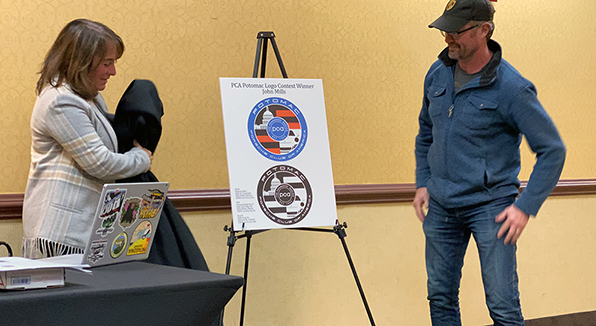 The transition to the new logo will take some time for some of the clubs physical materials, like flags and banners, but the website and social media have already put the new logo into use.
Plans are underway to update the PCA Potomac Goodie Store with new items sporting the updated logo!