Virginia PCA License Plate
Details

Last Updated: Saturday, 30 April 2016 09:21
Written by Howard Hill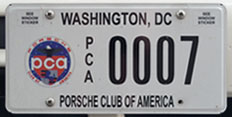 PCA Potomac Region has initiated a campaign to have PCA license plates for all PCA members living in the Commonwealth of Virginia.
Since there are PCA license plates already for Maryland (processed by the Chesapeake Region) and just recently for the District of Columbia*, it only was natural that the next campaign would be to establish Virginia PCA plates.
The key to getting PCA plates approved by the Virginia Legislature is to have 450 prepaid applications. Thus, we are soliciting expressions of interest from all Virginia PCA members.
If you would like to participate in this campaign, please send an email to: vaplates@pcapotomac.org with an indication of how many sets of plates you would like to receive. Note that the plates can go on any type of vehicle. Think tow vehicles!
Within the past year, Potomac already has collected nearly 300 requests for plates by Potomac members. However, we still need another 150 and recently sent information to Blue Ridge, First Settlers and Shenandoah Regions.
Once the license plate bill passes and is signed by the Governor, we are hoping the effective date of authorization to issue the plates will be not later than July 1, 2013. State law requires us to submit all of our final prepaid applications within 30 days after the effective date of the authorization.
Virginia DMV has already approved what the plate will look like.
The form of application is attached. A separate application is required for each vehicle, although one check will suffice (payable to PCA Potomac in the amount of $10.00 multiplied by your number of applications). Please complete your application(s) using Porsche Club of America for the field labeled Special Interest, and return the application(s) together with your check as soon as possible. Note: PCA Potomac is depositing your check into a special account and will hold the funds until we meet the minimum requirement of 450 prepaid applications; in the unlikely event that we do not achieve the minimum, the funds will be returned to you.
PLEASE RETURN YOUR PREPAID APPLICATION(S) TO THE FOLLOWING NEW ADDRESS:
PORSCHE CLUB OF AMERICA
P.O. BOX 60911
WASHINGTON, DC 20039
PLEASE DO NOT SEND YOUR APPLICATION(S) DIRECTLY TO THE DMV.