PCA Potomac Fall Rally - save the date!
Details

Last Updated: Wednesday, 19 July 2023 20:15
Written by Emely Winnert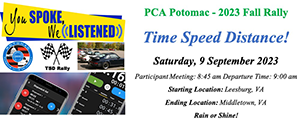 PCA Potomac 2023 Fall Rally - this is a Time Speed Distance Competition on Saturday, 9 September. The objective is to drive each course segment in a specified time at a specified average speed along a fixed route that you will receive at the starting point. Starting point: Leesburg, VA. Ending point: Middletown, VA. Cost: $25.
Registration Link will be available soon.