PCA National Announces the PCA Experience in Conjunction with Potomac's PorscheFest
Details

Last Updated: Friday, 28 June 2019 15:37
Written by Ron Flax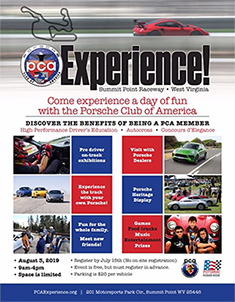 VOLUNTEERS NEEDED!
PCA National Announces the PCA Experience in Conjunction with Potomac's PorscheFest – 3 August 2019 Michael Kaunitz is looking for a total of about 50 people to volunteer (split into multiple shifts) to help run the PCA Experience. None of the jobs will be intensive or require special skills. Volunteers will receive a special event shirt and get a free lunch and beverages. Please reach out to mkaunitz@pcapotomac.org if you or someone in your family is interested in helping.
We are very excited to announce that in conjunction with our region, PCA National is going to be launching a brand-new event called The PCA Experience.
This event will take place the Saturday of PorscheFest (August 3rd) and is designed to introduce the larger Porsche community to the PCA lifestyle. Just like in years past we will have driver education, autocross, and drive and dine events that weekend but PCA National will be adding to the "fest" for sure.
The Summit Point Washington Circuit will be home to a massive festival - with food, music, activities for the spouses and kids, concours, rare cars, dealer displays and much more. Additionally, these visitors will be able to sign up to do parade laps on the Jefferson Circuit.
One of the great components of this event will be the "experience" tours for these visitors. Shuttle buses will be taking them to the Autocross pad to watch, and to the Summit Main paddock for a guided tour of the driver's education program.