PCA Potomac Picnic and Open Board Meeting
Details

Last Updated: Saturday, 24 March 2018 14:45
Written by Mia Walsh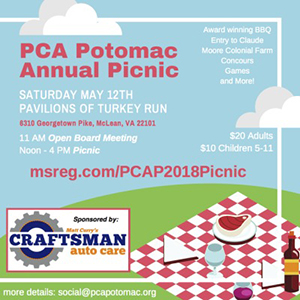 Please join us for PCA Potomac's Annual Picnic and Open Board Meeting on May 12, 2018 - sponsored this year by Matt Curry's Craftsman Auto Care in Alexandria (www.craftsmanautocare.com). The Pavilions of Turkey Run are located in convenient McLean, VA. We will have access to cornhole, softball, volleyball, horseshoes and a full covered picnic area with indoor restrooms. Just bring yourselves!
Price includes a full picnic luncheon including JR's award-winning pit brisket BBQ, hot dogs, hamburgers, chicken, veggie burgers, baked beans, potato salad, pasta salad, coleslaw, caesar salad, watermelon, beer, wine, soda, lemonade, water, popcorn, ice cream & sno-cones.
One of the big perks of doing it here is that we all gain access to the Claude Moore Colonial Farm - a living history museum that portrays family life on a small farm just prior to the Revolutionary War. Check it out at: 1771.org
Open Board Meeting: 11 AM
Picnic: 12:00 - 4:00 PM
Address: The Pavilions at Turkey Run, 6310 Georgetown Pike, McLean, VA 22101
Adults: $20 per ticket
Children 5-11: $10 per ticket, 4 and under: Free
Make plans to bring your Porsche and your family for this fun event!
If you have any questions please e-mail social@pcapotomac.org
REGISTER NOW FOR THE PCA POTOMAC PICNIC AT http://msreg.com/PCAP2018Picnic