The Morais Drive on Sunday, November 13 - Registration open!
Details

Last Updated: Monday, 17 October 2022 14:14
Written by Glenn Havinoviski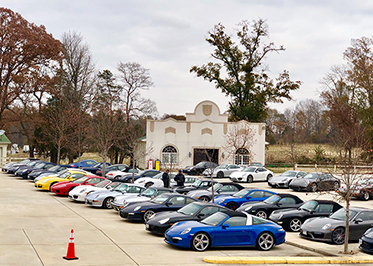 Our traditional last Drive and Dine event of the year takes us to Morais Winery and Vineyard in Bealeton, VA. Leaving from Ashburn, we will traverse the wilds of Loudoun and Fauquier Counties, arriving around 11 am at Morais. Two (2) food trucks will be present, Talk of the Mountain & El Jefe Street Eats. Talk of the Mountain is known for their Crab Cakes, Po Boys & Shrimp, as well as meat options should you desire. El Jefe does street tacos & nachos. And of course, wine will be present in their famous tasting room, whether you want to do tastings or enjoy a bottle. And as always, we will attempt to completely fill the parking lot with Porsches. They also offer winery tours and of course there is the famous Morais auto garage filled with Porsches, Ferraris, American muscle cars, and what may be the largest Citroen collection this side of the Atlantic.
You can register for the event at msreg.com/morais22. While there are no waitlists for this event (yay), we will also ask whether you will be driving directly to Morais in lieu of joining our formal scenic drive, just so both we and they can prepare. Join us and revel in our November tradition!