Porsches, Planes and Seafood!!
Details

Last Updated: Sunday, 26 July 2020 20:43
Written by Ron Flax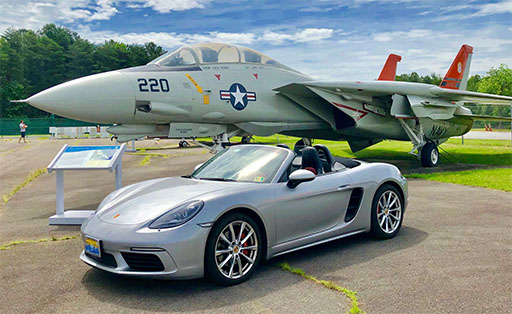 This event is currently sold out and taking waitlist registrations only.
Day drives have returned!! For our long-awaited first day drive of the season on Saturday August 8, we will take a back road run from Bowie, MD down to the Patuxent River Naval Air Museum. One of the most-loved attractions from last year's Lighthouse Tour, we have combined a morning visit to the PAX Museum with a lunch to follow at the Bugeye Grill in nearby Solomons.
We will depart from our rally point in Bowie (to be provided to registrants prior to the drive) by 8 am. There is a good breakfast place, Rip's Country Inn. off US 301 near our starting point, plus other outlets if you want to get breakfast before. We'll advise that you use the restroom before beginning our journey.
The 90 minute drive will take us through scenic back roads in Charles and Calvert Counties before our arrival around 9:45 am at the PAX Museum. The treat will be that you will get to drive onto the flightline and be guided to a park ing space next to classic naval fighter planes that once called the nearby PAX Naval Air Station home, including the F-14 Tomcat, the A-6, and other legendary military aircraft. Although the museum's rear building and flight simulators will not be available (thank you COVID), you will be able to enjoy the main museum building and the planes along the flightline. Please note that masks will need to be worn inside the museum (and preferably outside in the company of others at this event) and social distancing practiced as best as possible during your visit. Our $10 registration fee for this event ($8 for children 5-12, under 5 free) will include admission to the museum, which is sharply discounted from last year.
Around 11 am, we will depart for our lunch stop at the Bugeye Grille, whose manager Jimmy V is the proud owner of a 986 Boxster. We will park outside the restaurant and enjoy great seafood either on the patio or indoors, weather permitting. Everyone will be responsible for their own checks here. Please note we will be limited to 30 people for lunch. We look forward to seeing you once again!!!
You can register for this event at msreg.com/paxdrive.