Drive, Dine and Wine to Fox Meadow Winery
Details

Last Updated: Monday, 16 March 2020 16:52
Written by Ron Flax
THIS EVENT HAS BEEN CANCELLED
NEW YEAR, NEW ROADS, NEW WINERY for our first Drive & Dine of the 2020. Come and join us in Manassas and drive some new routes across Virginia, navigate the Sky Meadows State Park and follow the Shenandoah River with mountain style roads, wonderful forests and great views of Skyline Drive as we reach the Award Winning Fox Meadow Winery.
The owners, Dan and Cheryl Mortland with their son Bob represent 7th & 8th generation vintners. They have won awards and recognition in competitions such as the Atlantic Seaboard Wine Competition, Virginia Governor's Cup and Wines of the South. They are regularly featured in Wine Enthusiast Magazine.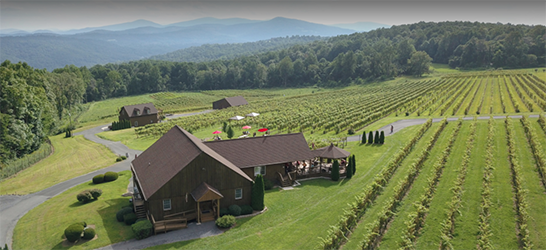 Our Drive & Dine group will be taking part in two wine tasting sessions: a tasting room experience with six Fox Meadow wines and a cellar tasting of two wines scheduled for bottling and release at the end of the month. Once our appetites have be whetted, we will grab our boxed picnic lunch and a glass of wine and find a place to absorb the wonderful mountain top view, either in the Foxes Den, the covered deck areas, Gazebo or perhaps you'll want to sit in one of the Pavilions, hidden among the vines. It's a great opportunity to catch up with PCA friends since our last event.
The lunches will be prepared by another award winning local business. If you want lunch, and we're sure you will, you'll need to order when registering for this event. Here are you choices:
Meat Sandwich Options: Roast beef, brie, pickled red onions, creamy horseradish mayo on butter croissant OR, Smoked pork tenderloin, honey mustard, red leaf lettuce, and sweet pickled red onion on Ciabatta roll
Vegetarian Sandwich Options: Fresh mozzarella, tomato, basil and balsamic glaze on Herbed Roll OR, Avocado Spring Rolls with Sriracha Sweet Chili and Peanut Dipping Sauces
All lunches come with a baby spinach salad with strawberries, slivered almonds and creamy poppy seed dressing, a self-serve Apple and Rutabaga Bisque and treasure of treasures, a Chocolate Chip Cookie!
You can register at: msreg.com/fmw1 This event is limited to 20 cars so please register and place your lunch orders as soon as possible!
Special Note: Lunch orders are placed upon registration for the event. For Registrations after March 16th, box lunches won't be available. The Winery does provide the usual winery cheese and meat platter should you prefer to order on the day.
When: Sunday March 22nd, 10am to ~3pm
Rally Point: Manassas location provided to Registrants
Destination: Fox Meadow Winery, Linden, VA.
Cost for all Wine Tastings & Glass of Wine for Lunch: $18 per person
Cost for Boxed Lunch: $28 per person