DRIVE DINE and WINE II (this time with cheese and chocolate!)
Details

Last Updated: Friday, 31 May 2019 09:40
Written by Ron Flax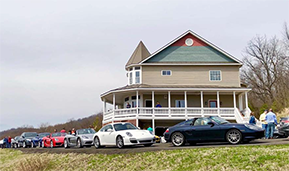 Following the success of the first event to Little Washington in March, our second Drive, Dine & Wine event of the year to the new Skyline Vineyard Inn destination at Little Washington Winery, VA, will take place on Saturday June 29th. The drive from Manassas to the refurbished Skyline Vineyard Inn will travel through some of the most scenic parts of Virginia horse country. At 11am, you'll enjoy an introductory wine tasting session designed to help you select a wine to accompany your midday lunch, delivered to you from another favorite; The Inn at Little Washington.
Around 1:30pm, more fun begins with a new Wine Class called Triple Threat: Chocolate, Cheese & Wine. We'll taste all of our favorites: cheese and chocolate and wine, all together to see what it does to our palate. Somebody's got to do it, right? Learning how to appreciate flavors, as well as being able to pair them well, is a most enjoyable hobby.
A fabulous drive, wine tasting, lunch, cheeses and artisan chocolates from the nearby Wine Loves Chocolate store. What's not to love? You can register here. This event is limited to 20 cars, so please register and place your lunch orders as soon as possible!
Special Note: Lunch orders are placed upon registration for the event. For Registrations after June 19th, box lunches /backpacks/baskets from the Inn at Little Washington won't be available, but you can pack your own lunch if you so desire. Note there are no food options at the destination – you preorder, or Bring Your Own!
When: Saturday June 29th, 9am - 3:30 pm
Rally Point: Manassas location provided to Registrants
Where: Skyline Vineyard Inn, Little Washington Winery, Washington Virginia
Cost for the Wine Class: $45 per person
Inn at Little Washington - Lunch Menu Options: Starting at $45 per person
You can register for this event at msreg.com/lww2.
If you have any questions please contact us at driveanddine@pcapotomac.org.
I@LW Lunch Menu Options: Starting at $45 per person