Spring Drive-Virginia and Gourmet Picnic
Details

Last Updated: Wednesday, 01 May 2019 08:35
Written by Glenn Havinoviski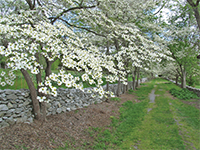 If you missed the Maryland Spring Drive, or just want another beautiful drive in the country, please join us on Sunday, May 19th, for a country drive and picnic lunch at the Virginia State Arboretum (http://blandy.virginia.edu/) catered by The Locke Store (https://lockestore.com/) and with wine from Valerie Hill Vineyard (http://www.valeriehillwinery.com/). Your hosts will be John and Rose Eberhardt.
We will meet for the drive at 10:00 AM in Manassas (location to be provided to registrants). We will then break into our run groups and drive some fun, back country roads to Millwood, VA, where folks can pick up a choice of boxed lunch at the Locker Store (Club Sandwich, Tuna Sandwich, Egg Salad Sandwich, Fruit and Goat Cheese Salad) before heading onto the final leg over to the Virginia Arboretum. You will be able to order your lunch in advance on the registration form on the following pages.
When we all arrive there around 1 pm, we'll start our picnic with a glass of wine each from Valerie Hill Vineyards, a local winery in Winchester, VA.
After the picnic you are encouraged to walk around the arboretum and enjoy. We highly encourage bringing a picnic blanket, sunblock, and anything in addition you would like to snack on! And the Locke Store has plenty of additional goodies that you can buy when you are there.
Registration fee of $40 per person include food, wine, gratuity, and good company. You're on your own for gas or anything else you buy at the Locke Store.
You can register for this event at msreg.com/springva19.
If you have any questions please contact us at driveanddine@pcapotomac.org.