VIRGINIA HIGHLANDS TOUR RETURNS JULY 20-22
Details

Last Updated: Tuesday, 15 May 2018 07:39
Written by Ron Flax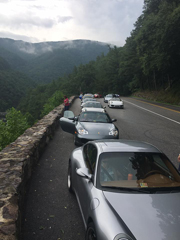 Join us for a weekend of unparalleled driving opportunities along the Shenandoah into historic Bath and Alleghany Counties, hosted by Alex Lunsford. We have reserved a limited number of rooms (18) at the historic Inn at Gristmill Square in Warm Springs for Friday and Saturday nights (July 20-21, checking out July 22).
You will enjoy a wonderful Friday drive down through Shenandoah and George Washington National Forests (stopping off for lunch in Staunton) to Warm Springs. After checking in, join the Friday night buffet with a bluegrass band, then on Saturday you will enjoy a dramatic 7-hour drive across Bath and Alleghany Counties, followed by dinner back in Warm Springs and camaradarie with your Porschephile friends! Sunday is on your own.
You can register for this event at: msreg.com/vahigh18. Please contact driveanddine@pcapotomac.org for additional information if needed.