And Now for Something New - Our First Lighthouse Tour!
Details

Last Updated: Sunday, 08 April 2018 12:20
Written by Ron Flax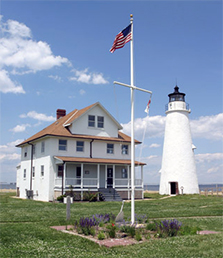 Join us for this first-time early summer Drive and Dine event, as we enjoy a trip back into the 19th Century maritime era, but from the comfort of our Porsches! The drive will consist of a two-day scenic weekend tour of Southern Maryland's lighthouses. Situated along the Chesapeake Bay and the tidal Potomac, these lighthouses date back to the early 1800s, including Thomas Point Shoal in Annapolis, Cove Point, and Drum Point along the bay and Piney Point, the latter on the tidal Potomac. Connecting these lighthouses, we will follow some of the loveliest and most hidden "blue roads" in the mid-Atlantic.
Saturday June 9, we will meet for a brunch in the Annapolis area, and then set off on the first leg of our lighthouse drive, stopping for an overnight stay at the Holiday Inn - Solomons Island and enjoying dinner and libations at a high-quality local venue - and possibly a stopover at the infamous Tiki Bar to enjoy very un-"19th Century maritime era" fun!
On Sunday June 10, we will enjoy breakfast at the hotel and then take a winding and scenic drive to the southern tip of the Maryland Peninsula, stopping at Piney Point (lighthouse and museum). Our drive will be topped off by a visit to Running Hare Winery and vineyard ("A little bit of Tuscany and Napa in Southern Maryland").
We have a reasonable overnight group rate at the Holiday Inn Solomons Conference Center and Marina. As always, block size is limited and you will be responsible for your own hotel reservation.
For more trip, hotel and registration information, please visit merge.com/lighthouse2018. For any questions, please contact driveandine@pcapotomac.org.