Now's Your Chance to Join the 2018 Nemacolin / Fallingwater Tour!
Details

Last Updated: Sunday, 08 April 2018 12:19
Written by Ron Flax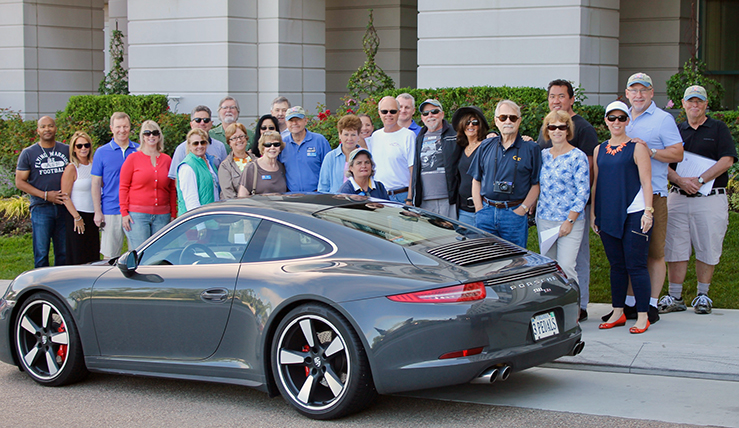 It's back once again! This popular event from July 5 to July 8 combines an enjoyable drive to Pennsylvania's Laurel Highlands, either 2 or 3 nights at the incredibly beautiful Nemacolin Resort, fine dining, scenic drives, and for those who have never seen them – a jawdropping tour of Frank Lloyd Wright's legendary Fallingwater and Kentuck Knob homes.
The Nemacolin resort is one of only 6 hotels and resorts in the world to host Forbes Five-Star, AAA Five-Diamond lodging and dining, and has been upgraded continuously over the past decade. For this year we have once again negotiated a $279 per night room rate (not including taxes / resort fees) in the luxurious Chateau Lafayette building, a substantial savings over the rack rate.
For those who have not been on this trip before, it is a fantastic opportunity to enjoy yourself and your Porsche in the mountains and to meet other Club Members and Porsche enthusiasts. In the past, this has been one of the biggest overnight gatherings in the Region, with upwards of 30-40 vehicles and around 70 attendees. And remember – Nemacolin has a dog spa (Nemacolin Wooflands) and many family activities!
For those who would like to make it a three day weekend, we will organize a group for a scenic drive from the Frederick area toward Nemacolin on Thursday, July 5. The group will meet for cocktails that night, and a driving/touring day to some of the nearby resort towns on Friday. For those coming up on Nemacolin on Friday, July 6, we will organize a group to take a scenic drive from Northern Virginia.
More information on the tour and hotel as well as well as registration is at merge.com/nemacolinDnD2018. For any questions, please contact driveandine@pcapotomac.org
Your tour registration fee will include our Friday night BBQ on the deck of Mulligan's clubhouse overlooking the Golf Course. You will be expected to show up in your finest casual Porsche finery, with an award provided for the most Porsche-bedecked person as voted on by the attendees, who, it is warned, may or may not be in various states of inebriation. So break out your Porsche socks, watches and tattoos (!?). It will also include shuttle service on Saturday night to an off-resort restaurant (pay your own way). You will also be able to register online for a Saturday tour of Kentuck Knob and a Sunday tour of Fallingwater (group discount rates)
While at the resort, participants have the choice of participating in one or more activities, including golf, a mountain drive, and a Clay Shooting Tournament. There is also ziplining, an art collection, the animal park, off-roading, and more. Guests can also just relax and enjoy the spa, blow their earnings at the casino, and enjoy other hotel facilities. Check out www.nemacolin.com/activities. (Note that extra fees may apply for the above activities.)