Have a Sweet Time in Hershey!
Details

Last Updated: Sunday, 26 March 2017 09:43
Written by Glenn Havinoviski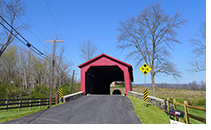 The hotel block may have expired, but you can still sign up and join us for the drive on Friday April 21 and for our other events that weekend!. Our first overnight Drive and Dine event of the season will be Friday April 21 through Sunday April 23, taking us from covered-bridge country in north central Maryland all the way to Hershey for their world-famous Porsche-only Swap Meet and the fabulous Antique Auto Club of America (AACA) Museum. We will take a scenic drive from north of Frederick to Emmitsburg, stopping off for lunch at a country inn and later on in Gettysburg for ice cream, getting to Hershey Friday afternoon. That night we'll plan on enjoying some awesome Italian at Hershey's famous Fenicci's. On Saturday morning, we'll enjoy the infamous Porsche-only Swap Meet and concours event, and that afternoon we'll check out some exhibitions at the AACA Museum in Hershey (including Italian cars and mid-size Chrysler musclecars from the '60s and '70s, along with their permanent Tucker exhibit). We'll spend Saturday night at The Mill restaurant and then everyone is on their own on Sunday.
We are staying at the Hershey Lodge, you can check and see if there are any rooms left at the inn.
No charge for this event, but as we're going "Dutch" (yes, we know, it's Pennsylvania) everyone will be responsible for their own food and hotel payments.
Info on registration and hotel here
Please contact driveanddine@pcapotomac.org for further questions / inquiries!